Note:Kanji will helpt you to understand the meaning
For beginners from non-Kanji speaking countries, Kanji can be hard and can be a barrier. However, you can guess its meaning by learning Kanji! This also helps with reading comprehension.
Infographic:
Here is a useful infographic Hang the words of the groups you can't remember in front of your desk or carry them around with you on your cell phone and memorize them in the spare time you have.
Time&Season in Japanese
One of the great things about Japan is that the four seasons are so wonderful and beautiful. I recommend spring and fall in Japan.
Adding the word "vacation" to the name of a season makes it the name of a vacation. However, Japanese schools do not have a vacation in autumn.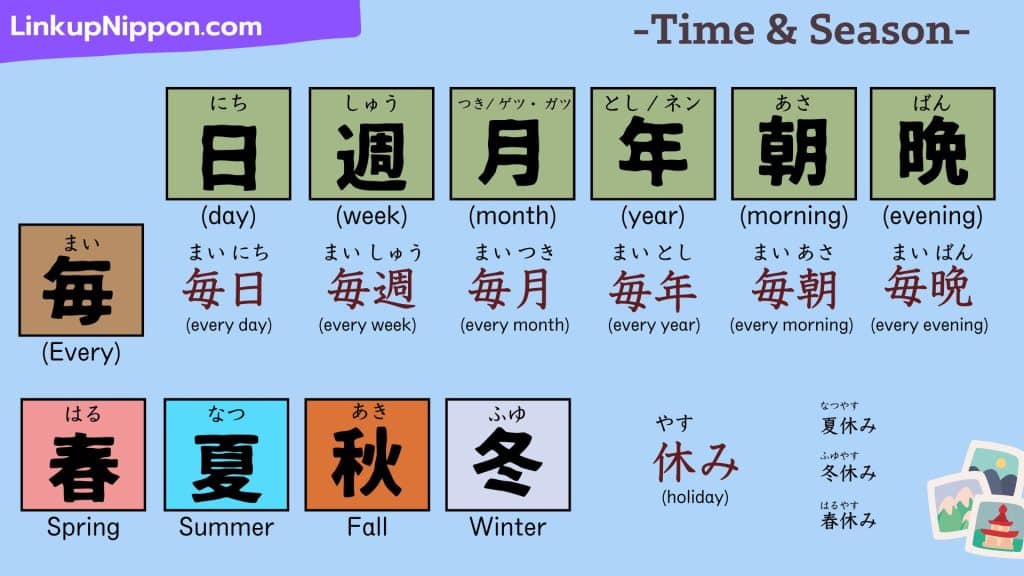 | English translation | Japanese |
| --- | --- |
| every day | まいにち |
| every week | まいしゅう |
| every month | まいつき |
| every year | まいとし |
| every morning | まいあさ |
| every evening | まいばん |
Daily words in Japanese
| English translation | Japanese |
| --- | --- |
| spring | はる |
| summer | なつ |
| fall | あき |
| winter | ふゆ |
Season name in Japanese
The point of the day of the week is also the Kanji. Many Japanese calendars do not have furigana. We recommend changing the settings on your cell phone.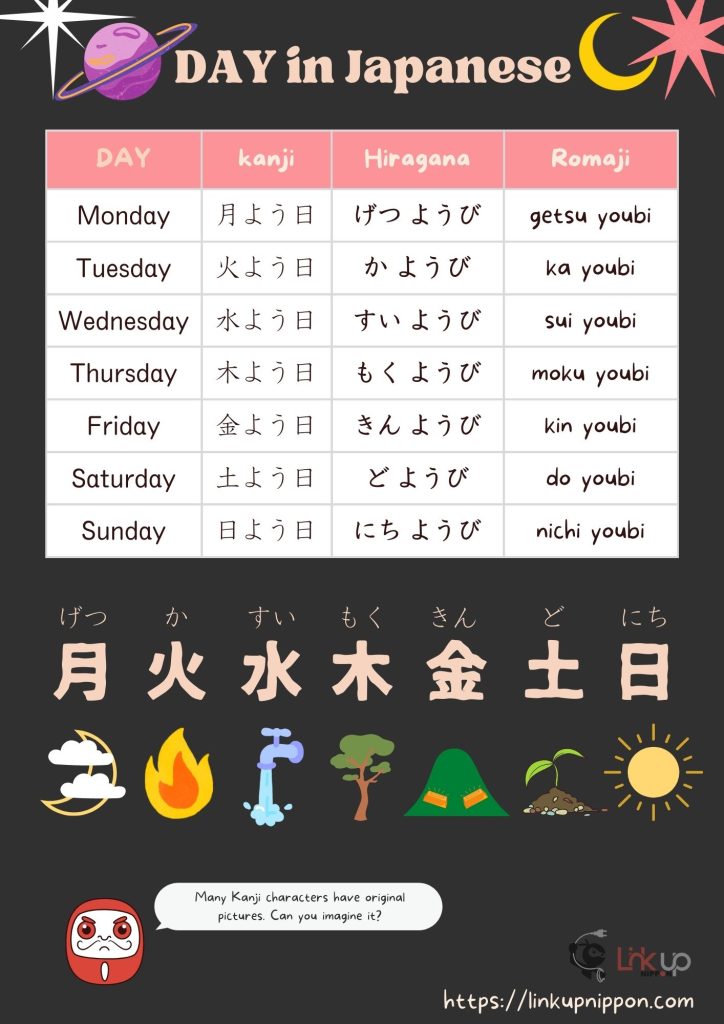 You can also buy a Japanese calendar and hang it in your room. There is still time for you to take the test! Put it into practice right away!
Gakken Staiful OURHOME Transformation Day Calendar TabletopAM15012
Available only from Amazon.co.jp Please check shipping costs.
Time in Japanese
Please refer to this article for more information about time in Japanese. Of all of them, the reading of minutes is particularly tricky. Practice saying it over and over again.
Flash card video
Practice test video
Recommendation books for JLPT
Here, you can add your training with using these book for JLPT N5.
The Preparatory Course for the Japanese Language Proficiency Test: N5 Reading
Please check this article too.
Keep learning…!
Lastly, the JLPT vocabulary is about 800 words. So, continuous daily study is key. Check out the others, and keep building your vocabulary!